Drink beer on your iPhone. This hilarious visual trick behaves like a real glass of beer and lets you connect with friends or strangers for drink sharing, live voice chat and photo swapping!
Quick announcement: New app!
Secret Instant Message Teleprompter
Our new app looks like a normal note app but actually transmits every word to another smartphone where it appears in large scrolling letters. Brilliant for spies, magicians, or speakers that need unscripted live information hidden from others and the press.
Download Now!





iBeer Instructions
NEW
Drink with friends
and family around the world.
Cross-pour drinks
(mixing crazy cocktails) with up to 4 people near and far.
Share photos
behind your drink and
voice chat
about them live. Drinking alone is a thing of the past!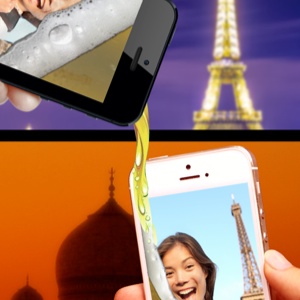 iBeer Drink Sharing:

When you tilt your iPhone the beer empties and appears in your friend's iPhone. Pick different drinks and watch the colors mix like in real life!
Tap the WIFI button at the bottom to connect.
Earn rewards and become the world's iBeer leader!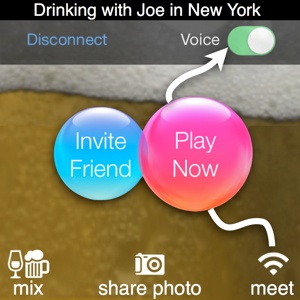 Restore previous purchases
We NEVER charge you twice for in-app-purchases like milk, soda, etc. In iBeer 7.3 just tap "Restore Purchases" if after an update those things are missing.
Watch all the features:
Watch how to pour iBeer from iPhone to iPhone:
FEATURES
Brew:
5 ways to brew iBeer. See Settings Menu for more. Tons of beers and tricks included.
Drink:
Tilt your device to "pour out" beer.
Drool over the realistic liquid animation. Let people enjoy it and drink at a pace even if that's against your habit...
Most people "drink" a gulp, then shake to demo the cool foam and drips, then down the rest.
Foam:
Shake beer to make more foam.
Drips:
Run your finger over the glass or beer to make mesmerizing condensation drips.
Bubbles:
Shake for more. Don't shake too much unless you like surprises...
More Drinks:

iBeer comes with 4 beers, a mouthwash, and steaming hot coffee. To instantly switch to another drink tap the glass icon at bottom left.
Soda, Cola, Water, Milk and more:
To download those you need to be connected to the Internet or else nothing happens. Makes sense, really.
We will NEVER charge you again for it even if those things seem missing after updating your device. Just tap "Restore Purchases" or pretend to buy them again and iTunes will tell you that the re-download is free.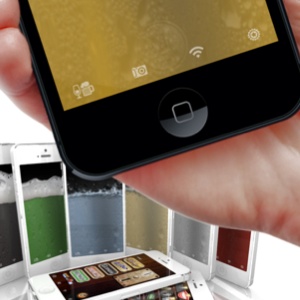 QUICK MENU
The 4 white buttons at the bottom of your drink will take care of just about everything instantly. From left to right:

Glass:
Drink selector. Quickly switches the kind of drink you want. 6 kinds included. Try the steaming coffee!

Camera:
Background selector. Quickly switches the photo behind your drink. Try a screenshot of your home screen for fun!

WIFI:
Live drink sharing. Connect with up to 4 friends via Game Center and cross-pour drinks. Watch the colors change as you mix different refreshments!

Cog:
Settings menu. Dig deep and change all the settings!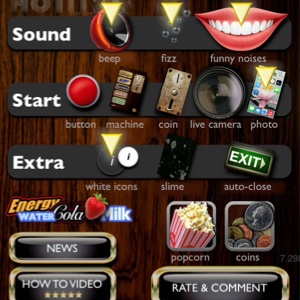 SETTINGS MENU
Who would have though the world demanded to customize an iBeer. You asked. We bowed.
Get to the menu by tapping "SETTINGS" at the bottom of your drink selector.

Yellow triangle
Shows which of the many options you selected. See your settings at one quick glance!

SOUND:
System:
Beeps, hydraulic sounds and such.

Fizz:
The hissing sound of freshly poured beer. Turn it off if you like flat beer.

Funny Noises:
Burp. On or off depending on who you're entertaining and if you want to stay friends with them.
Get hilarious celebrity voices right here (requires Internet connection to download).

START:
5 Ways to present iBeer in different context.

Button:
iBeer classic red button. Note that the WHOLE screen acts as a button on RELEASE. This way you can secretly trigger it with your thumb and pretend that iBeer is voice activated or a fingerprint scanner or a breathalyzer or credit card terminal. Yeah. Some people just push the button. Suit yourself.

Machine:Cool vending machine which pours 4 different kinds of beers or mouthwash. Switch to Sodas and Milks via the Strawberry at bottom left.

Coin:
Same cool vending machine. However the beers only pour after you tap the coin slot. Pretend to insert money (preferably someone else's)...

Live Cam:
Puts the live view of your camera behind the beer and makes it look like your iPhone is transparent. Drown the world in beer. Hours of fun.

Photo:
Use any photo from your library. Uncle Joe, your kitten, the congressman, or a screenshot of your iPod touch lock screen.

EXTRAS:
White Icons:
Whenever you touch your beer or start screen you'll see the Quick Menu at the bottom. This is to help new users find their way around. As a pro you can just memorize where each of the 4 buttons is and make them invisible here.

Slime:
Pretends your iPhone's screen is dirty from the beer. Switch it off if you like things clean.

Exit:
An iBeer classic function. If you still see this in your iBeer you're running an outdated version. Go update. It's free. When you're done drinking an iBeer the app quits and goes back to your real home screen. Some people swear it's funnier than refilling iBeer especially if they start out with the fake home screen (using a screenshot as a background picture). Up to you, your audience, and your thirst.

How To Video:
Our award-winning instruction videos. Short, funny, and full of great tips and tricks.

More Trix:
Other HOTTRIX apps and real products you'll like. We know you will.
We've been inventing stuff for 20 years so there's TONS of wackiness to discover. Visit us now!

Tell A Friend:
Sends an email with pre-made text (you can change) to anybody via your email program. We're not collecting your address because we like you.

Rate This App:
Your shortcut to rate iBeer and post comments. Be kind or we'll have to beg to get our old job back. Not pretty.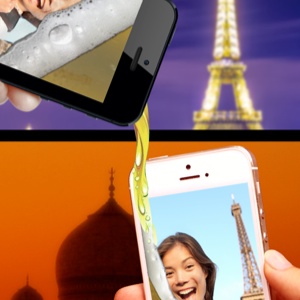 iBeer Drink Sharing Game Center:
Drink with friends and family near and far. When you tilt your iPhone the beer empties and appears in your friend's iPhone. It's really like pouring beer from glass to glass. The kicker? Pick different drinks and watch the colors mix! Pour Coffee into someone's milk and watch it steam up.
Tap the WIFI button at the bottom of your drink and connect via Game Center. Earn rewards and become the world's iBeer leader!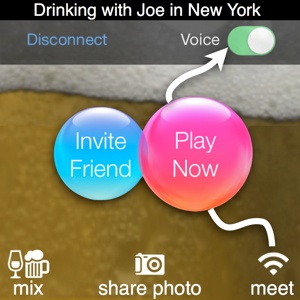 Connect with random iBeer drinkers



Tap WIFI


Tap PLAY


Gamecenter finds your best match and connects you


Tilt your beer and it fills up the stanger's glass


Pick coffee and it steams up the other person's beer


Connect with friends


Tap WIFI


Tap INVITE FRIEND


Pick a friend and tap NEXT


Type a message if you wish and send


Your friend gets a push message and accepts


Gamecenter connects you two


Tilt your beer and it fills up your friend's glass


Pick coffee and it steams up the other person's beer


Live Audio Chat
Connect to a friend or random player by tapping the WIFI icon, PLAY
Switch ON Voice (top right microphone icon)
If the other person hasn't switched on his mic you can just yell at him to do so; he'll hear you loud and clear...
Live Photo Sharing
Connect to a friend or random player by tapping the WIFI icon
PLAY
Tap Camera icon (bottom menu, second from left)
Select a photo from your photo roll or take a picture right now, tap OK
Your photo appears behind the other player's drink
Comment on each other's pictures using Live Audio Chat.
Use the new Vodka drink if you want to see photos with more clarity. When you disconnect your original background image returns.
What is Gamecenter?
It's Apple's secure multiplayer platform that allows you to connect to people you know.
Chances are, you're already logged in because it uses your normal Apple ID with which you get games or movies on iTunes and the app store.
If you're not logged in yet or have never used Gamecenter before iBeer will open Apple's official login screen for Gamecenter to get you started instantly.
This neat AOL video
explains step by step how Gamecenter works and how you set it up.
Want to make your own app?
Make
apps in 60 seconds with InstantApp
, our latest invention.
SUPPORT OF KIND WORDS AND TECHNICAL WISDOM
Contact us directly for questions and help because your comments on the app store won't reach us for free improvements and updates.
http://www.hottrix.com
help@hottrix.com
7500 W Lake Mead Blvd.
Suite 9-478
Las Vegas, NV 89128