Thumbs-Up


So real you can shake hands after you're done!
Shoot cards and create mindboggling stunts with this super soft tip! We have created the world's first realistic thumb tip with extra features.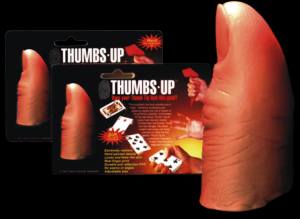 Extremely realistic
Adjustable size
Natural skin texture
Tinted knuckles
Real finger print
Hand painted details
No seams or edges
Glossy nail
Durable anti reflection PVC
Softest tip on the market!
Absolutely silent
BUY NOW - PERFORM THIS MIRACLE!
Available as MegaSoft (flow control and

millennium techniques) or Hard (conventional handling).
Perfect with Magnet-Up. Manual downloadable instantly after purchase!
Watch the online video: Thumbs-Up
Look at this Photo: Incredible!
To see the finger prints click here!


ORDER NOW
Price: $14.95
Second Deal
Add a second one

for only $12.95 (14.95)

Accessory
Add Finger-Up (for long objects) $19.95

Add Magnet-Up (World's strongest Magnet: Perfect fit for Thumbs-Up. Great for instant vanishes and stopping watches!)
for only $14.95

Pro Deal

Body Part MegaPack

$99.95
(124.95)
Save $25.-


& Magnet-Up, Super Magnet FREE



The Tell-All about the world's most authentic TT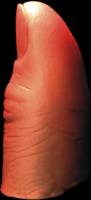 Every day we receive emails, calls, even videos with amazing new techniques magicians the world over are developing thanks to the ultra softness of our Thumbs-Up megaSoft. JThis alone is proof enough, that magicians not only need better thumb tips but are also constantly developing new ideas with a product that started out as just a better tip. It has evolved to be an entirely new gimmick!
Watch Sheraton's Thumbs-Up video featuring countless amazing stunts and miracles not even professionals thought possible with just a thumb tip (available spring 2000). Featuring video reports from Japan, Las Vegas, Europe on the amazing discoveries magicians made with Thumbs-Up and Magnet-Up.
Judge for yourself. Hold your old plastic thumb tip against the monitor and be really honnest for a second.
Don't fool yourself by thinking how cool it is, that you handle your TT so well, that nobody ever sees it. You are creating unnecessary misdirection to divert from a low tech product!
Why a better thumb-tip?
Just because they have been ugly for so long does NOT mean that it's OK this way!
Great thumb-tip handlers claim that the tip could be yellow and still not be seen. Good for them!
What about us normal magicians?
Do we need to learn techniques that base on the fact that a TT is detectable because of its inferior quality?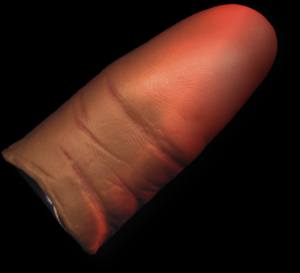 For the last century or so we have created techniques that limit "in view"-time of a TT to an absolute miniumum. Why? Well we don't think about it too much anymore because the techniques have become so standard. But yes: We are trying to hide thumb-tips because they just don't look like a part of our hand and anybody in their right mind will notice the mutant sticking on your thumb! So we try to hide the hunchback and create fancy moves that abuse the ingeniousity of the gimmick and merely reduce it to little container hidden away. Well heck: You may as well just use a pull if you are happy with this kind of non-sense. These techniques are OK if you feel it's necessary to limit yourself because of low-tech gadgets. But quite honnestly: You are limiting yourself and your art with this kind of ideology.
Do yourself a favor by feeling safe with a product that facilitates your craft rather than creating more obstacles on the road to good performing.
After all you are here to create wonders and not to worry about finger acrobacy in order to hide a under-developed product!
"I know people say, that a TT could be yellow and not seen if handled well. True BUT it's about my feeling while performing. It simply casts away all worries and gives me confidence to concentrate on performing!" (testimonials)
Sure, THUMBS-UP is not invisible. And no, you are not going to show empty your hands pointing out how real your finger prints look. BUT: Wouldn't it be great to make things appear, disappear or switch objects without the worry of looking physically challanged.
The story behind it all
The Germans again...
While featuring INFERNO in Dresden, Germany, where the 1997 World Championship in Magic was held, we talked to the leading magicians from around the globe. When asked, what they would improve on the magic market it was not "customer support", "packaging" or "distribution" they addressed, but a standard item, they all love but often feel reluctant to use: The Thumb Tip. The main reason for criticism was the unauthentic look most brands have.
The untraditional Pros' oppinion...
Not necessarily coloring determines invisibility, but texture. Funny enough none of them emphazised on "handling" since in our opinon that was the deciding factor of a TT being invisible. Mentionig this, they replied, that standard handling (pointing the thumb towards the spectator or constantly parlming the tip) is useless as soon as there is more than one person watching because of the angles. In fact most techniques only aim at hiding the tip and not move freely as if there was nothing to hide.
From Argentina with love...
After a stroll through the countless dealer booths we ended up with a bag full of thumbs ranging from OK to mutant looking. Most of them were extremely shiny and had seams on the side, some were far too small. The only thing they all had in common: they were not molded after a real finger thus simply looked unnatural. To say the least...
Extinct T-Rex...
We decided to give the dinosaur in magic a revamp and create the perfect TT. Back in Switzerland we started looking for a plastics manufacturer and that's when we realized, that it wasn't the lazyness of thumb tip manufacturers, that created the monsters they are selling: It's the technology and the connected financial investment. While it would be possible to create a seamless mold for a few thumb tips, manufacturing hundreds would require special metal molds. To manufacture these molds, it would be impossible to reconstruct a real finger since molding would be done on the drawing board/model shop as opposed to using a real finger as a master.
May as well just do it right, right?
We wanted our thumbs to have a realistic touch, hence a softer material, which would require expensive machinery, able to create seamless units and capable of dropping the finished product from the mold after completion. But soft PVC takes much longer to "dry" so only a limited amount of units can be manufactured unless multiple molds were constucted. All of this proved to be very costly and the need for high tech equipment was required. We took the risk and cross- financed this project with the earnings from other products to follow what had nearly become an obsession: A realistic thumb tip!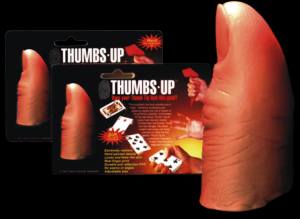 Lookin' pretty...
After manufacturing, each and every thumb undergoes special tinting to recreate the natural skin-tone variations (red knuckles, glossy nail etc.) by a process, that guarantees the tinting to stay on (ever tryed to paint a rubber ball?). It took over a year and a lot ot sleepless nights but we are proud to have made it. You will love your new thumb and just for fun will try, what we do: Shake their hand after you're done with the trick. From now on you can use a thumb tip without the naging fear of detection.
Size matters
Thumbs-Up soft and hard come in one size only. The special material allows you to custom fit the unit to your exact thumb diameter for perfect fit.
Let us know if you have very small thumbs and we'll provide you with a special size THUMBS-UP so you'll shoot cards and not thumbs...

BUY NOW - PERFORM THIS MIRACLE!
Available as MegaSoft (flow control and millennium techniques) or Hard (conventional handling).
Perfect with Magnet-Up. Manual downloadable instantly after purchase.
ORDER NOW
Price: $14.95
Second Deal
Add a second one

for only $12.95 (14.95)

Accessory
Add Finger-Up (for long objects) $19.95

Add Magnet-Up (World's strongest Magnet: Perfect fit for Thumbs-Up. Great for instant vanishes and stopping watches!)
for only $14.95

Pro Deal

Body Part MegaPack

$99.95
(124.95)
Save $25.-


& Magnet-Up, Super Magnet FREE